We will look at the two main reasons why the housing supply is still low in Metro Detroit.-
 Why Is Housing Supply So Low?
One key question that's top of mind for homebuyers this year is: why is it so hard to find a house to buy? The truth is, we're in the ultimate sellers' market, so real estate is ultra-competitive for buyers right now. The number of buyers searching for a home greatly outweighs how many homes are available for sale.
While low inventory in the housing market isn't new, it's a challenge that continues to grow over time. Here's a look at two reasons why today's housing supply is low and what that means for you.
1. New Home Construction Fell Behind for Several Years
The graph below shows new home construction for single-family homes over the past five decades, including the long-term average for housing units completed. Builders exceeded that average during the housing bubble (shown in red on the graph). The result was an oversupply of homes on the market, so home values declined. That was one of the factors that led to the housing crash back in 2008.
Since then, the level of new home construction has fallen off. For the last 13 straight years, builders haven't been able to construct enough homes to meet the historical average (as illustrated in green on the graph). That underbuilding left us with a multi-year inventory deficit going into the pandemic.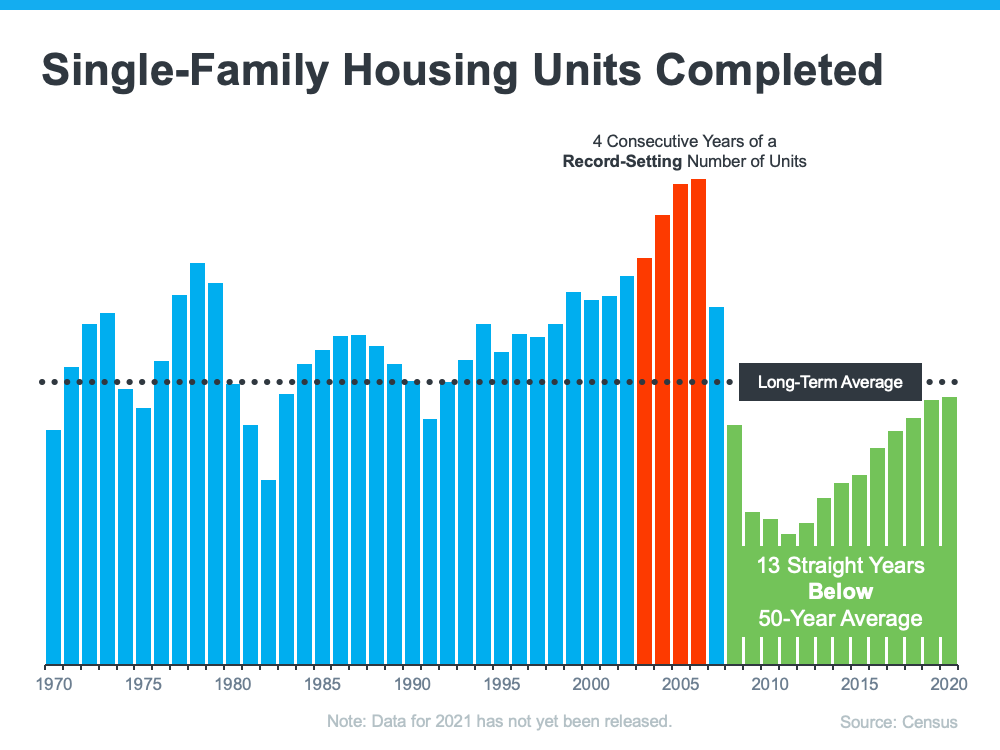 2. The Pandemic's Impact on the Housing Supply
Then, when the pandemic hit, it fueled a renewed appreciation and focus on the meaning of home. Having a safe space to live, work, school, and exercise became even more important for Americans throughout the country. So, as mortgage rates dropped to at or below 3%, buyers eagerly entered the market looking to capitalize on those low rates to secure a home that would fulfill their changing needs.
Sellers Hit Paused Due to the Pandemic
At the same time, sellers hesitated to put their houses on the market as concerns about the pandemic mounted. Also when mortgage rates dropped homeowners refinanced and took some of their equity home improvements; like finished basements or additions.  They created the space they needed at the moment. The question is how long will that last before they decide to move. If you're curious and would like to keep up to date, I produce a monthly Report loaded with graphs in our National Housing Market Update and Predictions Report. 
The result?
The number of homes available for sale dropped even further. A recent article from realtor.com explains:
"Last month, the number of home listings dropped 26.8% compared with the same time a year earlier. This meant there were about 177,000 fewer homes listed in what's already typically a slower month due to the holidays and colder weather. . . ."
What Does The Low Housing Supply Mean for You?
For a buyer, low inventory can be a challenge. You want to find your ideal home, and you don't want to settle. But what if there just aren't that many homes to choose from? My recommendation is to know the market you're in and your negotiation power. It could be your ideal home is not in your price range and you need to make adjustments. Maybe you need to look at different locations that are more affordable.
Not sure where to start?
I recommend starting with knowing the 3-year live housing market trends by city and price range. This report is updated by the 15th of each month.  If you want to win know the market you're in and work your way through the 4 stages.  Call or Text 📲 248-343-2459 with any questions.
There is some good news.
Experts are projecting more homes will soon become available thanks to sellers re-entering the market. Danielle Hale, Chief Economist at realtor.com, shares this hope, but offers perspective:
"We expect that we'll start to see a turnaround and inventory will stabilize and start to go up a little bit in 2022. . . . But that means we're looking at inventory levels of roughly half of what we saw before the pandemic. For buyers, the market is likely to continue to move fast. If you see a home you like, you want to jump on it right away."
Basically, Inventory is Still Low
Even though more homes are coming. But you shouldn't put your plans on hold because you're waiting for those additional houses to hit the market.  Instead, stick with your search and persevere through today's low inventory. You can find your next home if you're patient and focused.
Remember your goals and why finding a home is so important. Those things should be the driving force behind your search. Share them with your agent and be clear about your priorities. Your trusted advisor is your greatest support as you navigate today's low housing supply to find the home of your dreams.
Want to Save Thousands?
Watch the Video ☝☝☝ and see how you can save thousands on your mortgage. It's your money, so we need to put it to work for you. We have our favorite and best loan officer to assist you and answer all your questions.  Unlike some other lenders, Keller Mortgage isn't spending millions on marketing and advertising.  Therefore, we pass those savings on to you by offering no fees and a low rate. Plus $1,000 Cash Credit at closing for loans $150k or more! Contact my Cell with any questions at 248-343-2459 or 👇👇👇 request help below.
Your 🔑 To Home Selling and Buying Success ~ Safe PDF Guides
☝☝ ☝

Watch Video for Sneak Peak
Don't muddle through the Home Buying and Selling Process. Buying a new home is a dream for all of us, and it's an emotional and stressful process. It also involves the most significant financial transaction you probably will make in your lifetime. Your Selling Guide…It will help you work through the selling process using the latest in high-tech market tools, so you make MORE MONEY. 
Our goal is to separate your home from the competition, keep Buyers focused on your house. The Selling Guide is very detailed and works step-by-step, so you're guaranteed Top Dollar for your home.
Low Housing Supply Bottom Line 
If you're planning to buy this year, the key to success will be patience given today's low inventory. Let's connect to discuss what's happening in our area, what homes are available, and why it's still worthwhile to prioritize your home search today.
Simplifying Real Estate Through Education
As we move forward, it's been challenging as we navigated through all the changes. Putting your dream of a new home on HOLD shouldn't be one of them. Now more than ever, knowledge will be your power. Know the Market You're In and your Negotiation Power. Check out Categories for additional updates regarding the Market | Buying | Selling
If You Need To Sell 1st… I Recommend

🛑

Doing This!
No 2 homes are alike, and agents need to 🛑 marketing ONE size fits all. We no longer have an exposure problem (internet). Your home is buried on public home search internet sites. The only way to compete on those platforms is the price. If you want more money, you need to apply Influence. Separate your home from the competition, so the Buyer sees value. Keeping them focused on your property and not getting lost in homes' inaccurate data on public internet sites is necessary. Having digital omnipresence on serval platforms is your key to success. Remember MORE INFLUENCE = MORE 💰. We have details on how you can utilize High Tech Marketing and Win!
Have Questions?
If you have any questions, contact us: Chatbot 🤖 at the bottom. Contact me by Email 📩 or my Cell 📲 @ 248-343-2459. Would you mind sharing your thoughts below or what future article you would like to see? Your opinion is important to us…. this site is for you.🤩 To Keep up to date request our 🏡 Chat Newsletter or Follow us on Facebook, Instagram, or YouTube.

Could you help me Find my Perfect Ideal Home!
Please tell me what you're looking for in your new Ideal Home…I can help you find the newest and best homes on the market.
Need Help with the Right Mortgage?
See how you can save Thousands.

Have Questions?
Let us know what we can do to help you work your way through the Buying & Selling Puzzle.

Website Development, Production, and Content by Pam Sawyer @ Team Tag It Sold © 2017 All Rights Reserved