Mortgage Rate Predictions in 2021
With mortgage interest rates hitting record lows so many times recently. Some are wondering if we'll see low rates continue throughout 2021. Will we see a start in the rise of interest rates as we move into 2021?  Recently, Freddie Mac released their quarterly forecast, noting:
"The average 30-year fixed-rate mortgage hit a record low over a dozen times in 2020. The low interest rate environment is projected to continue through this year. We expect interest rates to average below 3% through the end of 2021. While this is a modest rise from 2020. The recent vote by the Federal Reserve to keep interest rates anchored near zero should keep rates low."
As shown in the graph below, Freddie Mac is projecting low rates in the future. We will see a modest rise that's expected to continue through 2022.
Fannie Mae
Freddie Mac isn't the only authority forecasting low rates with a slight rise. Fannie Mae, The Mortgage Bankers Association (MBA), and the National Association of Realtors (NAR) also anticipate low rates with a small increase as 2021 continues. Here's the quarterly breakdown of their projections and how they're expected to play out over the next year: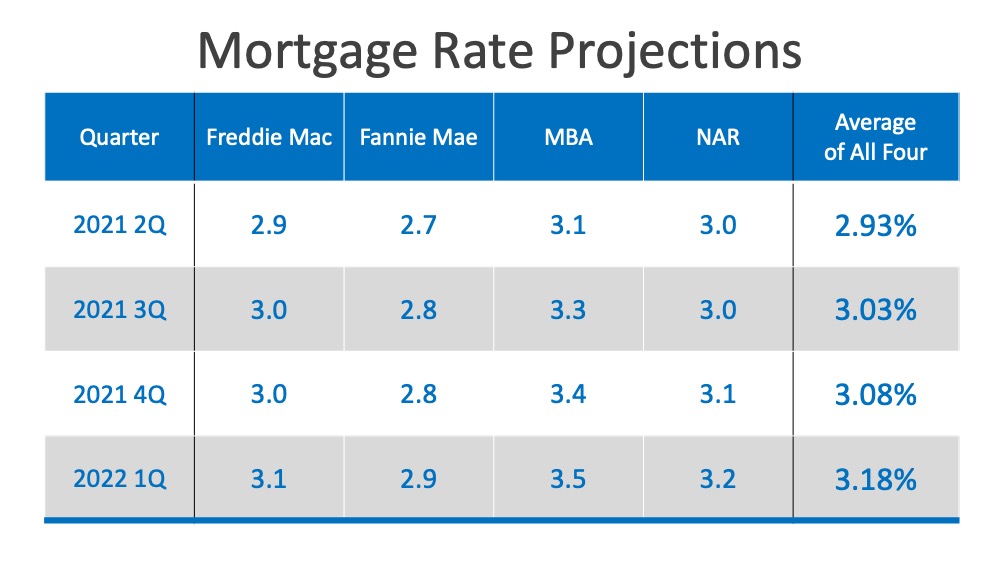 It's important to note while a small change in interest rates can have a substantial impact on monthly mortgage payments. These rates are still meager compared to where they were just a couple of years ago.
What does this mean for buyers?
Low mortgage rates create an outstanding opportunity for current homebuyers to get more money while staying within their budget. As the economy gets stronger and we recover from the challenges of 2020, it's natural for rates to rise in response to a healthier economy potentially. Mark Fleming, Chief Economist at First American, reminds us:
"Rising interest rates reduce house-buying power and affordability, but are often a sign of a strong economy, which increases home buyer demand. By any historic standard, today's mortgage rates remain historically low and will continue to boost house-buying power and keep purchase demand robust."
With low rates fueling activity among buyers, many people are highly motivated to purchase right now. In this environment, it can be challenging to find a home to buy. It is so important to have a plan and be 1st to know. Equally important is to find the right Real Estate Agent.  Read what they write, and together come up with a plan that works for you. I've designed a plan that may work well for you… My Blueprint to Your 🔑 to Success.  Working with a trusted real estate professional to navigate the process while rates are in your favor might be the best move you can make.
Bottom Line
If you're ready to buy a home, it may be wise to make your move before mortgage rates rise. Let's connect to discuss how today's low rates can create more opportunities for you this year.
As we move forward….
It's been tough as we navigated through all the changes. Putting your dream of a new home on HOLD shouldn't be one of them.  Now more than ever knowledge will be your power. Know the Market You're In and your Negotiation Power. Check out Categories for additional updates regarding the Market | Buying | Selling & My Blueprint to Your 🔑 to Success
 In Closing
If you have any questions, contact us: Chatbot 🤖 at the bottom.  Contact me by Email 📩 or my Cell 📲 @ 248-343-2459.  With all the doom and gloom of the virus, one thing history has shown us, this will NOT define us.  Stay safe! Please share your thoughts below or what future article you would like to see. Your opinion is important to us…. this site is for you ❣

Help me Find my Perfect Dream Home!
Tell me what you're looking for in your new Dream Home…I can help you find the newest and best homes on the market.
Need Help with the Right Mortgage?
See how you can save Thousands.

Have Questions?
Let us know what we can do to help you work your way through the Buying & Selling Puzzle.

Website Development, Production, and Content by Pam Sawyer @ Team Tag It Sold © 2017 All Rights Reserved