The Main Key To Understanding When and If Mortgage Interest Rates Rise
Will mortgage interest rates go up in 2022
Every Thursday, Freddie Mac releases the results of their Primary Mortgage Market Survey, which reveals the most recent movement in the 30-year fixed mortgage rate. Last week, the rate was announced as 3.01%. It was the first time in three months that the mortgage rate surpassed 3%. In a press release accompanying the survey, Sam Khater, Chief Economist at Freddie Mac, explains:
"Mortgage rates rose across all loan types this week as the 10-year U.S. Treasury yield reached its highest point since June."
Khater mentions the 10-year U.S. Treasury yield because there has been a solid relationship between the yield and the 30-year mortgage rate over the last five decades. Here's a graph showing that relationship: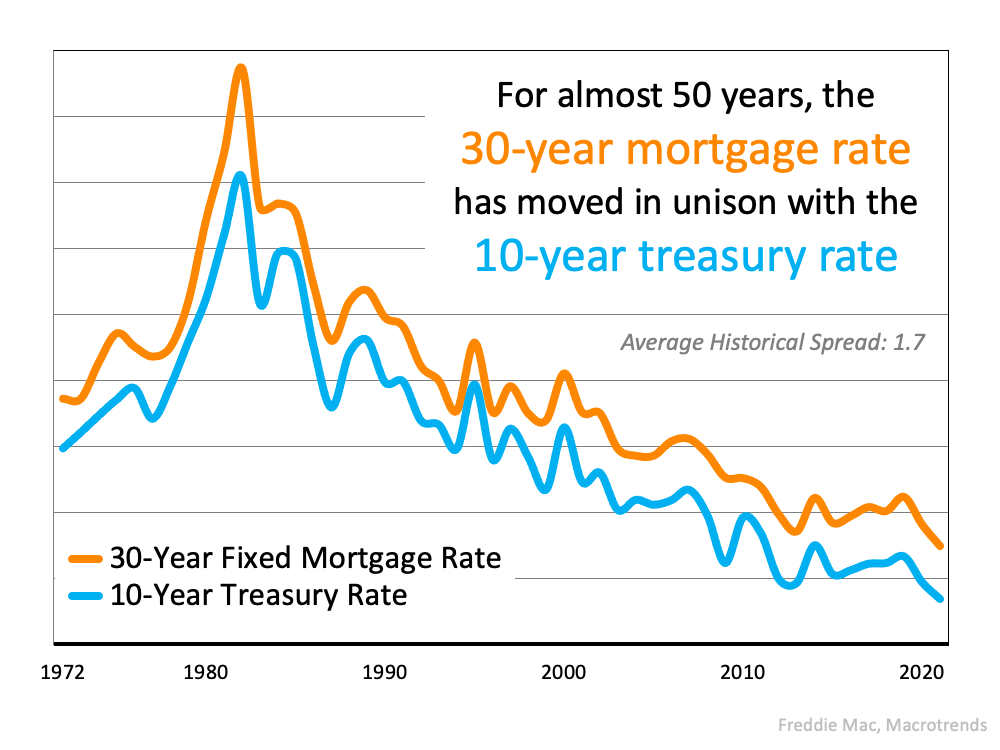 The relationship has also been consistent throughout 2021, as evidenced by this graph: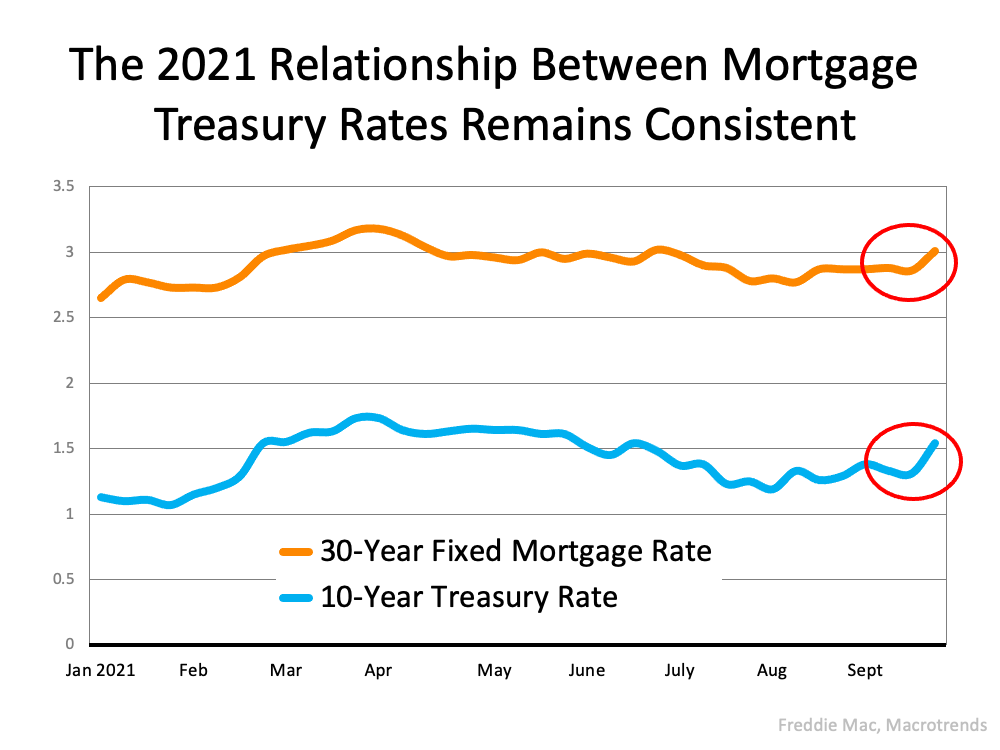 The graph also reveals the most recent jump in mortgage rates was preceded by a jump in the 10-year Treasury rate (called out by the red circles).
So, What Impacts the Yield Rate?
According to Investopedia:
"There are a number of economic factors that impact Treasury yields, such as interest rates, inflation, and economic growth."
Since there are currently concerns about inflation and economic growth due to the pandemic, the Treasury yield spiked last week. That spike impacted mortgage rates.
What Does This Mean for You?
Khater, in the Freddie Mac release mentioned above, says:
"We expect mortgage rates to continue to rise modestly which will likely have an impact on home prices, causing them to moderate slightly after increasing over the last year."
Nadia Evangelou, Senior Economist and Director of Forecasting for the National Association of Realtors (NAR), also addresses the issue:
"Consumers shouldn't panic. Keep in mind that even though rates will increase in the following months, these rates will still be historically low. The National Association of REALTORS forecasts the 30-year fixed mortgage rate to reach 3.5% by mid-2022."
Bottom Line ~ Will mortgage interest rate rise
Forecasting mortgage rates is complicated. As Mark Fleming, Chief Economist at First American once quipped:
"You know, the fallacy of economic forecasting is don't ever try and forecast interest rates and or, more specifically, if you're a real estate economist mortgage rates, because you will always invariably be wrong."
That being said, if you're either a first-time homebuyer or a current homeowner thinking of moving into a home that better fits your current needs, keep abreast of what's happening with mortgage rates. It may very well impact your decision.
Helping You Build Your Future Wealth Through Real Estate
As we move forward…it's been tough as we navigated through all the changes. Putting your dream of a new home on HOLD shouldn't be one of them.  Now more than ever, knowledge will be your power. Know the Market You're In and your Negotiation Power. Check out Categories for additional updates regarding the Market | Buying | Selling & My Blueprint is Your 🔑 to 🏡 Buying & Selling Success
 In Closing
If you have any questions, contact us: Chatbot 🤖 at the bottom.  Contact me by Email 📩 or my Cell 📲 @ 248-343-2459. Would you mind sharing your thoughts below or what future article you would like to see? Your opinion is important to us…. this site is for you.🤩
Get Your Home Buying & Selling Strategies in our E-Guide
Don't muddle through the home buying process. Buying a new home is a dream for all of us. It's an emotional and stressful process, and it also involves the biggest financial transaction you probably will make in your lifetime.
Your home buyers guide will let you buy your ideal home with confidence and save thousands in the process. You will be working with Selling Agents, loan officers, underwriters, title companies…1. Do you know the lingo? 2. Do you know what to avoid after applying for your mortgage? 3. Do you know your Negotiation Power? 4. Do you know how your agent thinks and how they will handle negotiations if you find yourself in a multiple offer situation? Find out the answer by downloading your PDF E-book Buying Guide.

Could you help me Find my Perfect Ideal Home!
Please tell me what you're looking for in your new Ideal Home…I can help you find the newest and best homes on the market.
Need Help with the Right Mortgage?
See how you can save Thousands.

Have Questions?
Let us know what we can do to help you work your way through the Buying & Selling Puzzle.

Website Development, Production, and Content by Pam Sawyer @ Team Tag It Sold © 2017 All Rights Reserved