Are you concerned will your house sell in Today's Housing Market? Find out why now is a great time to sell your house in Metro Detroit MI.
If recent headlines about the housing market cooling and buyer demand moderating have you worried you've missed your chance to sell, here's what you need to know. Buyer demand hasn't disappeared, it's just eased from the peak intensity we saw over the past two years.
Buyer Demand Then and Now
During the pandemic, mortgage rates hit record lows, and that spurred a significant rise in buyer demand. This year, as rates increased due to factors like rising inflation, buyer demand pulled back or softened as a result. The latest data from ShowingTime confirms this trend (see graph below):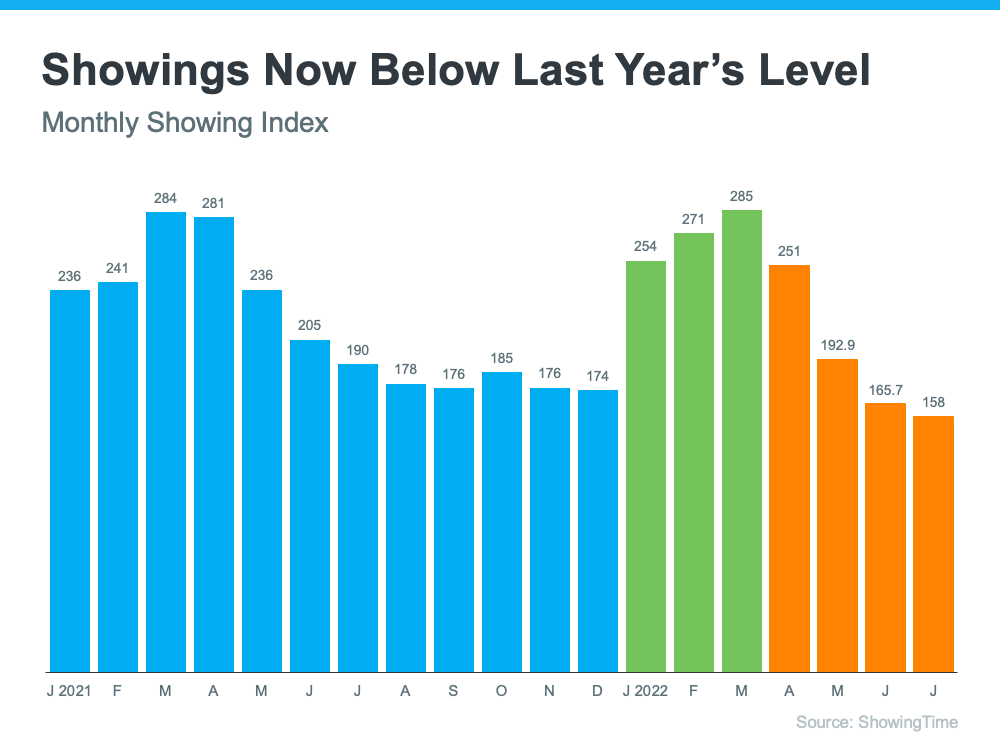 The orange bars in the graph above represent the last few months of data and the clear cooldown in the volume of home showings the market has seen since mortgage rates started to rise. But context is important. To get the full picture of where today's demand stands, let's look at the July data for the past six years (see graph below):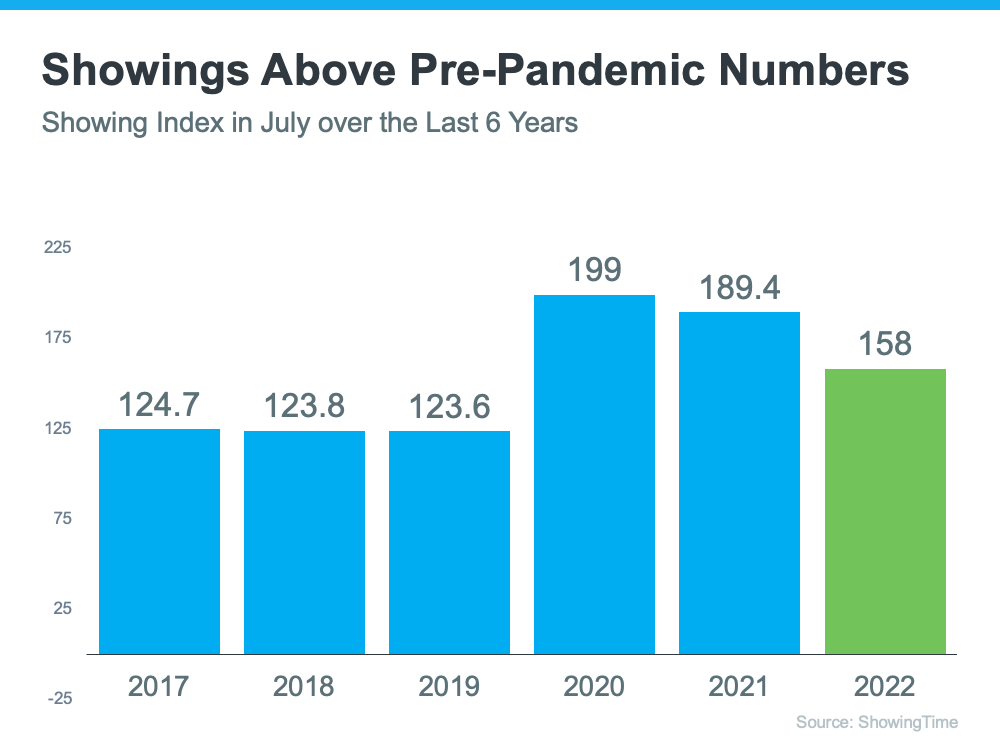 This second visual makes it clear that, while moderating compared to the frenzy in 2020 and 2021, showing activity is still beating pre-pandemic levels – and those pre-pandemic years were great years for the housing market. That goes to show there's still demand if you sell your house today.
What That Means for You When You Sell
The key to selling in a changing market is understanding where the housing market is now. It's not the same market we had last year or even earlier this year, but that doesn't mean the opportunity to sell has passed.
While things have cooled a bit, it's still a sellers' market. If you work with a trusted local expert to price your house at the current market value, the demand is still there, and it should sell quickly. According to a recent survey from realtor.com, 92% of homeowners who sold in August reported being satisfied with the outcome of their sale.
Step #1~

Marketing How to Sell Your Home for More Money
💥 Important 💥 Know how to separate your home from the competition
The only way you are going to compete with the other homes for sale on these platforms is by price, not value. Even in a Sellers' Market, Marketing your Home is very 💥important💥 Think Amazon…getting your home in front of buyers looking for what you are selling. You need to stay in front of all potential buyers. They may not even know they want to move. I've sold many homes over the years to buyers that we not looking or planning to move. So, they were not working with a realtor or going on the public website either. They saw the home in a marketing campaign, saw the value, and paid top dollar because the home was perfect for them. The right Marketing and Advertising are essential to influence buyers = more money. 💰
If you find this information useful, like it and share it with your friends and family.
Step #2 ~

Your

🔑 To Home Selling and Buying Success ~ Safe e-Guides
💥 Important 💥 Your Guides also have educational videos and links regarding where home prices are heading, mortgage rates, Housing Market Trends, and more.
Watch Video for Sneak Peak
Don't muddle through the Home Buying and Selling Process. Buying a new home is a dream for all of us, and it's an emotional and stressful process.
Get Both Your Home Buying and Selling Guides
It also involves the most significant financial transaction you probably will make in your lifetime. Your Buying Guide…will walk you through tips, strategies, and how to understand the numbers to strengthen your negotiation power.
Your Selling Guide…It will help you work through the selling process using the latest in high-tech market tools, so you make MORE Money. Our goal is to separate your home from the competition and keep Buyers focused on your house. The Selling Guide is very detailed and works step-by-step, so you're guaranteed Top Dollar for your home.
Step #3 ~

Live 3-Year Graph for Home Prices and Trends by City
💥 Important 💥 Know Your Numbers…It represents your Money! This is Where You Track Home Prices and Housing Inventory Levels (Supply and Demand) by City, & updated monthly by the 15th. You have direct access to all data from the Multiple Listing Service because I programmed it that way 🤩
Spend less

when

buying

and

make more

when you

sell

.
As a programmer, you have full access to everything in the multiple listing service on my website. You don't need a realtor to access the data. Before you start working through the 5 steps, start with understanding the difference between Price-Driven Approach vs Value-Driven Approach.
I recommend working through each of the 5 Steps
It has everything you need to determine the Market You're In and review your city's 3-year live trends regarding home prices. Better yet, you can even review Sold properties and not rely on online estimates. I've provided additional videos regarding the housing market and how you can benefit from all the tools on this page. Whether you're selling or buying real estate now or later. I recommend keeping up to date and protecting your real estate investment. It's essential to follow the Housing Market Trends for Metro Detroit and know The Market You're In, and it's the only way you'll know your true Negotiation Power.
Step #4 ~

Look up Sold Data by your location. 
💥 Important 💥 Modify (watch video) your search and select home criteria closest to the features and benefits of your home to compare. 
Know the Difference Between Prive-Driven vs Value-Driven Approach
When I started in real estate 22 years ago, I found many homeowners and home buyers were relying on their agent regarding Price vs finding an agent that will help them work through the education process regarding Value. See the difference between Price Driven Approach vs Value Driven.
One thing I learned is that numbers do represent your money. Either you leave money on the table for the buyer when you sell or spend more than you should when you buy. Agents pick the houses and bring you the comps and recommend a price based on the data they pulled; vs. you have the access to the data and work through the process of value together and you select the best price for your home, not the agent. You have options to double-check the numbers, it's your money.
Bottom Line Will Your House Sell
Buyer demand hasn't disappeared, it's just moderated this year. If you're ready to sell your house today, let's connect so you have expert insights on how the market has shifted and how to plan accordingly for your sale.
As we move forward, it's been challenging as we navigated through all the changes. Take a peek into my crystal ball…review the Housing Market Prediction Report eGuide. Putting your dream of a new home on HOLD shouldn't be one of them. Now more than ever, knowledge will be your power. Know the Market You're In and your Negotiation Power. Check out Categories for additional updates regarding the Housing Market | Home Buying | Selling for More Money
Have Questions?
Contact information below 👇 including sending a text message or Chatbot 🤖 at the bottom right. Would you mind sharing your thoughts below or what future article you would like to see in the comments? Your opinion is important to us…. this site is for you.🤩 To Keep up to date request our 🏡 Chat Newsletter.
Scroll Down for Testimonials
Have a Question 💥Send a Text 🤩
☎ ~

+1 (248) 343-2459
📩 Email
teamtagitsold@outlook.com
Website Development, Production, and Content by Pam Sawyer @ Team Tag It Sold © 2017 All Rights Reserved