Find out if we will see the housing market crash 2023 as we move into the new year in Metro Detroit MI. Let's review the graphs and links so you can follow the trends yourself.
Whether or not you owned a home in 2008, you likely remember the housing crash that took place back then. And news about an economic slowdown happening today may bring all those concerns back to the surface. While those feelings are understandable, data can help reassure you of the situation today. I've taken a deeper dive if we hit a recession it will be nothing like the Crash of 08. 
One of the key reasons why the market won't crash this time is the current undersupply of inventory. Housing supply comes from three key places:
Current homeowners putting their homes up for sale
Newly built homes coming onto the market
Distressed properties (short sales or foreclosures)
For the market to crash, you'd have to make a case for an oversupply of inventory headed to the market, and the numbers just don't support that. So, here's a deeper look at where inventory is coming from today to help prove why the housing market isn't headed for a crash.
Current Homeowners Putting Their Homes Up for Sale
Even though housing supply is increasing this year, there's still a limited number of existing homes available. The graph below helps illustrate this point. Based on the latest weekly data, inventory is up 27.8% compared to the same week last year (shown in blue). But compared to the same week in 2019 (shown in the larger red bar), it's still down by 42.6%.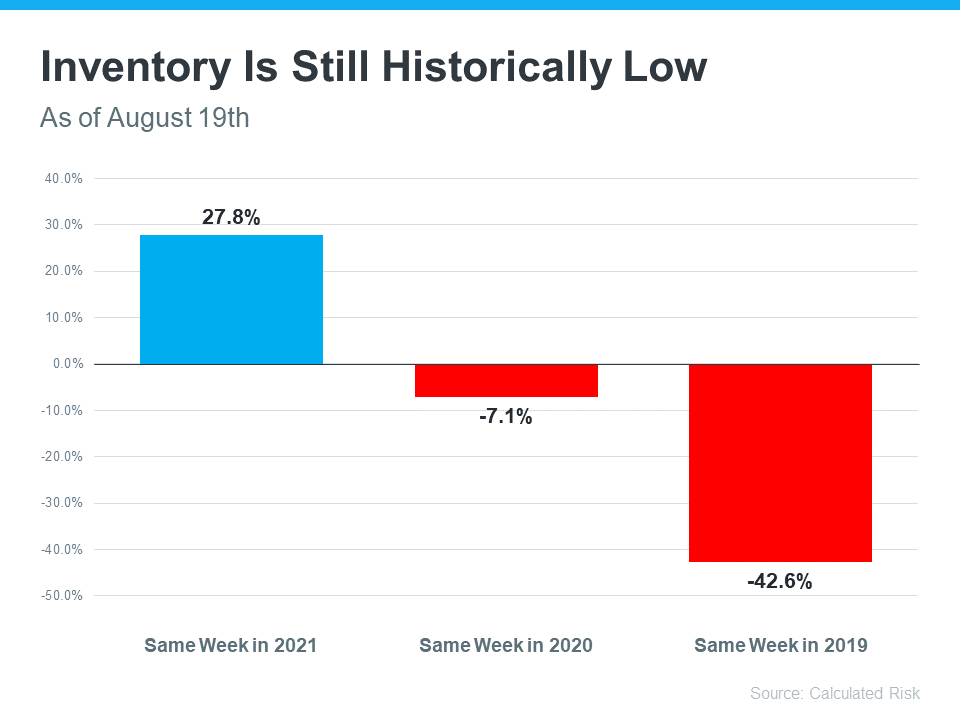 So, what does this mean? Inventory is still historically low. There simply aren't enough homes on the market to cause prices to crash. There would need to be a flood of people getting ready to sell their houses in order to tip the scales toward a buyers' market. And that level of activity simply isn't there.
Newly Built Homes Coming onto the Market
There's also a lot of talk about what's happening with newly built homes today, and that may make you wonder if we're overbuilding. But home builders are actually slowing down their production right now. Ali Wolf, Chief Economist at Zonda, notes:
"It has become a very competitive market for builders where they are trying to offload any standing inventory."
To avoid repeating the overbuilding that happened leading up to the housing crisis, builders are reacting to higher mortgage rates and softening buyer demand by slowing down their work. It's a sign they're being intentional about not overbuilding homes as they did during the bubble.
According to the latest data from the U.S. Census,
At today's current pace, we're headed to build a seasonally adjusted annual rate of about 1.4 million homes this year. While this will add more inventory to the market, it's not on pace to create an oversupply because builders today are more cautious than the last time when they built more homes than the market could absorb.
Distressed Properties (Short Sales or Foreclosures)
The last place inventory can come from is distressed properties, including short sales and foreclosures. Back in the housing crisis, there was a flood of foreclosures due to lending standards that allowed many people to secure a home loan they couldn't truly afford. Today, lending standards are much tighter, resulting in more qualified buyers and far fewer foreclosures. The graph below uses data from ATTOM Data Solutions on properties with foreclosure filings to help paint the picture of how things have changed since the crash: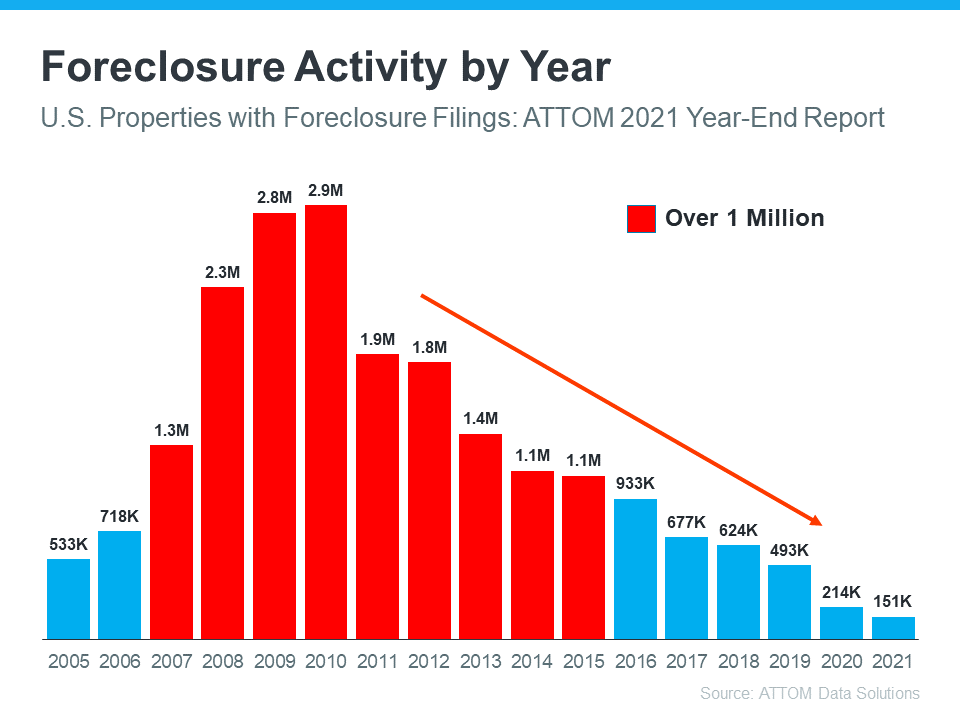 The Forbearance Progam
This graph shows how in the time around the housing crash there were over one million foreclosure filings per year. As lending standards tightened since then, the activity started to decline. And in 2020 and 2021, the forbearance program was a further aid to help prevent a repeat of the wave of foreclosures we saw back around 2008.
That program was a game changer, giving homeowners options for things like loan deferrals and modifications they didn't have before. And data on the success of that program shows four out of every five homeowners coming out of forbearance are either paid in full or have worked out a repayment plan to avoid foreclosure. These are a few of the biggest reasons there won't be a wave of foreclosures coming to the market.
Step #1 ~ Live 3-Year Graph for Home Prices and Trends by City
💥 Important 💥 Know Your Numbers…It represents your Money! This is Where You Track Home Prices and Housing Inventory Levels (Supply and Demand) updated monthly by the 15th. You have direct access to all data from the Multiple Listing Service because I programmed it that way 🤩
I recommend working through each of the 5 Steps 
It has everything you need to determine the Market You're In and review your city's 3-year live trends regarding home prices. Better yet, you can even review Sold properties and not rely on online estimates. I've provided additional videos regarding the housing market and how you can benefit from all the tools on this page. Whether you're selling or buying real estate now or later. I recommend keeping up to date and protecting your real estate investment.  It's essential to follow the Housing Market Trends for Metro Detroit and know The Market You're In, and it's the only way you'll know your true Negotiation Power. 
If you find this information useful, like it and share it with your friends and family.
Step #2 ~ Your 🔑 To Home Selling and Buying Success ~ Safe e-Guides
💥 Important 💥 Your Guides also have educational videos and links regarding where home prices are heading, mortgage rates, Housing Market Trends, and more.
Watch Video for Sneak Peak
Don't muddle through the Home Buying and Selling Process. Buying a new home is a dream for all of us, and it's an emotional and stressful process. It also involves the most significant financial transaction you probably will make in your lifetime.
Get Both Your Home Buying and Selling Guides
Your Buying Guide…will walk you through tips, strategies, and how to understand the numbers to strengthen your negotiation power.
Your Selling Guide…It will help you work through the selling process using the latest in high-tech market tools, so you make MORE Money. Our goal is to separate your home from the competition and keep Buyers focused on your house. The Selling Guide is very detailed and works step-by-step, so you're guaranteed Top Dollar for your home.
Bottom Line Will the Housing Market Crash in 2023
Although the housing supply is growing this year, the market certainly isn't anywhere near the inventory levels that would cause prices to drop significantly. That's why inventory tells us the housing market won't crash.
As we move forward, it's been challenging as we navigated through all the changes. Putting your dream of a new home on HOLD shouldn't be one of them. Now more than ever, knowledge will be your power. Know the Market You're In and your Negotiation Power. Check out Categories for additional updates regarding the Market | Buying | Selling

If You Need To Sell 1st… I Recommend Doing This for

MORE Money!
No 2 homes are alike, and agents need to 🛑 marketing ONE size fits all. We no longer have an exposure problem (internet). Your home is buried on public home search internet sites. The only way to compete on those platforms is the price. If you want more money, you need to apply Influence. Separate your home from the competition, so the Buyer sees value. Keeping them focused on your property and not getting lost in homes' inaccurate data on public internet sites is necessary. Having digital omnipresence on serval platforms is your key to success. Remember MORE INFLUENCE = MORE 💰. We have details on how you can utilize High Tech Marketing and Win!
Have Questions?
Contact information below 👇 including sending a text message or Chatbot 🤖 at the bottom right. Would you mind sharing your thoughts below or what future article you would like to see in the comments? Your opinion is important to us…. this site is for you.🤩 To Keep up to date request our 🏡 Chat Newsletter or Follow us on Facebook, Instagram, or YouTube.
Scroll Down for Testimonials
Let us know what we can do to help you work your way through the Buying & Selling Puzzle.
Have a Question 💥Send a Text 🤩
☎ ~

+1 (248) 343-2459
📩 Email
teamtagitsold@outlook.com
Website Development, Production, and Content by Pam Sawyer @ Team Tag It Sold © 2017 All Rights Reserved