Why Are Mortgage  Rates Climbing?
If you're thinking about home buying or home selling, Mortgage Rates Climbing Up will affect the housing market in Metro Detroit this year.
Last week, the average 30-year fixed mortgage rate from Freddie Mac jumped from 3.1% on January 1 to 3.45% on January 13. That's the highest point it's been in almost two years. On Monday the 18th, after I fell out of my chair when I saw what happened to the mortgage rates, I contacted Maryann at Keller Mortgage; she said, "depending on the time of day and buyers credit score, they were fluctuating between 3.5% and 3.7%" for conventional and 3.25%-3.5% on FHA. YIKES! If you're thinking about buying a home, this news may have come as a bit of a shock; I know it did for me and the projections were way off. But the truth is, it wasn't entirely unexpected. Experts predicted rates would rise in 2022, and the forecast is becoming a reality. Here's a look at the projections from Freddie Mac for this year.
So Why Are the Mortgage Rates Climbing Higher than Projected?
They started to rise after the Fed pulled back purchasing Treasure Notes, which would continue into 2022. Now you need to add the next layer, Inflation. The Fed's haven't raised the rates since they cut them at the pandemic's start. That's why leading economists strongly suggest the Fed's don't wait until March, raise them now, and get control of Inflation. So we will what and see what the Fed's do when they meet on the 25th – 26th of January. Stay tuned and check back often for updates.
Freddie Mac Expectations for Mortgage Rates Climbing Up
As the numbers show, this jump in rates is in line with the expectations from Freddie Mac. And what they also indicate is that mortgage rates are projected to continue climbing throughout the year. But should you be worried about rising mortgage rates? What does that really mean for you?
Q1 2022: 3.4%
Q2 2022: 3.5%
Q3 2022: 3.6%
Q4 2022: 3.7%
Home Affordability Could Get More Difficult Over Time
As rates increase modestly, they impact your monthly mortgage payment and overall affordability. If you're looking to buy a home, rising mortgage rates should incentivize acting sooner rather than later. At the beginning of January, we were at a 3.1% Mortgage Rate. So time is of the essence, seeing we are now pushing close to Mortgage Rates Q4 numbers at 3.7%. The higher rates will affect your purchasing power.
Current Mortgage Rates over the Past 5 Decades
The good news is, even though rates are climbing, they're still worth taking advantage of. Historical data shows that today's rate, even at 3.45%, is still well below the average for each of the last five decades (see chart below):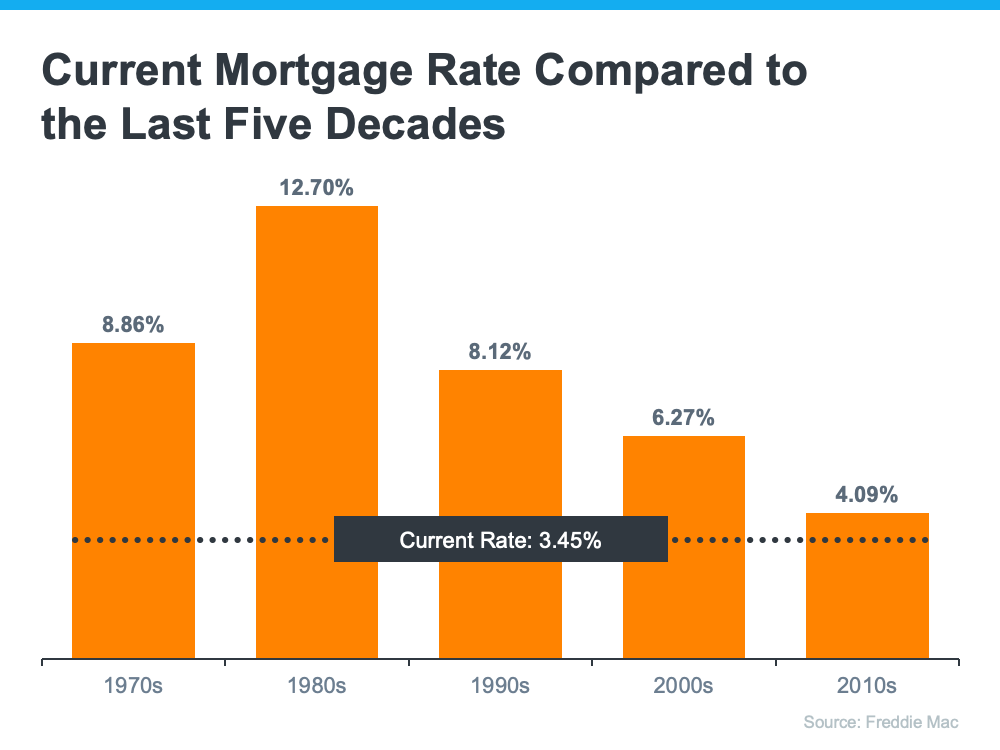 There Is Still Time if You Act Sooner than Later 
If you buy a home while rates are in the mid-3s, your monthly mortgage payment will be locked in at that rate for the life of your loan. As you can see from the chart above, a lot can change in that time frame. That means you still have an excellent opportunity to buy now with a rate that's better than what your loved ones may have paid in decades past. Buying now is a great way to protect yourself from rising costs and future rate increases while also securing your payment amount for the long term.
Nadia Evangelou, Senior Economist and Director of Forecasting at the National Association of Realtors (NAR), says:
"Mortgage rates surged in the second week of the new year. The 30-year fixed mortgage rate rose to 3.45% from 3.22% the previous week. If inflation continues to grow at the current pace, rates will move up even faster in the following months."his year
Housing Market and Live 3-Year Trends by City and Price
Housing Market Trends and Predictions by City
Now that you know the housing market trends on a national level. You need to review the numbers for your City and Price Ranges for more accurate numbers. Every month we update the live 3-year live trends by city by the 15th. Equally important is how long it takes homes to sell in your City and Price Range. You also have access to custom data for Sold Homes, so you don't have to rely on Public Websites Estimates. 
Call or text 📲 248-343-2459 for questions or help. It's essential if you're Buying or Selling is to know and understand the numbers. Sign up for our Newsletter to Keep Up to Date or check back around the 15th of the month.
Bottom Line Mortgage Rates Climbing Up
Mortgage rates are increasing, and they're forecast to be even higher by the end of 2022. If you're planning to buy this year, acting soon may be your most affordable option. Let's connect to start the homebuying process today.
Simplifying Real Estate Through Education
As we move forward, it's been challenging as we navigated through all the changes. Putting your dream of a new home on HOLD shouldn't be one of them. Now more than ever, knowledge will be your power. Know the Market You're In and your Negotiation Power. Check out Categories for additional updates regarding the Market | Buying | Selling
Your 🔑 To Home Selling and Buying Success ~ Safe PDF Guides
Watch The Video Sneak Peak 👉👉👉
Don't muddle through the Home Buying and Selling Process. Buying a new home is a dream for all of us, and it's an emotional and stressful process. It also involves the most significant financial transaction you probably will make in your lifetime. Your Selling Guide…It will help you work through the selling process using the latest in high-tech market tools, so you make MORE MONEY.
Our goal is to separate your home from the competition, keep Buyers focused on your house. The Selling Guide is very detailed and works step-by-step, so you're guaranteed Top Dollar for your home.
If You Need To Sell 1st… I Recommend

🛑

Doing This!
No 2 homes are alike, and agents need to 🛑 marketing ONE size fits all. We no longer have an exposure problem (internet). Your home is buried on public home search internet sites. The only way to compete on those platforms is the price. If you want more money, you need to apply Influence. Separate your home from the competition, so the Buyer sees value. Keeping them focused on your property and not getting lost in homes' inaccurate data on public internet sites is necessary. Having digital omnipresence on serval platforms is your key to success. Remember MORE INFLUENCE = MORE 💰. We have details on how you can utilize High Tech Marketing and Win!
Have Questions?
If you have any questions, contact us: Chatbot 🤖 at the bottom. Contact me by Email 📩 or my Cell 📲 @ 248-343-2459. Would you mind sharing your thoughts below or what future article you would like to see? Your opinion is important to us…. this site is for you.🤩 To Keep up to date request our 🏡 Chat Newsletter or Follow us on Facebook, Instagram, or YouTube.

Could you help me Find my Perfect Ideal Home!
Please tell me what you're looking for in your new Ideal Home…I can help you find the newest and best homes on the market.
Need Help with the Right Mortgage?
See how you can save Thousands.

Have Questions?
Let us know what we can do to help you work your way through the Buying & Selling Puzzle.

Website Development, Production, and Content by Pam Sawyer @ Team Tag It Sold © 2017 All Rights Reserved